Last updated on October 17th, 2019 at 05:42 am
Sharjah Airport International Free Zone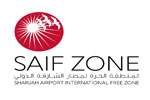 Sharjah Airport International Free Zone provides some of the most enticing business incentives in the region, including speed of service and simplicity of process. Versatility has always been one of SAIF-ZONE's prime objectives. From a single office space to entire manufacturing facilities and everything in between, the options are designed to accommodate every business and every scenario.
SAIF-Zone's customer base is among the largest in the world from one central hub, with access to more than 2 billion people within a four-hour flight and as one of the most dynamic Emirates in the UAE, Sharjah accounts for over a third of the country's industrial activity.
Warehouses, storage areas, container parking, bunkers and labour housing are all available at the lowest costs and highest quality. SAIF-ZONE offers an unlimited workforce to support your business along with sponsorship and visas for in-house staff to make the transition to a new workplace as smooth as possible.
Thanks to these options, some of the world's most prestigious companies operating in the Middle East have SAIF-ZONE's as their base, with the added personal, corporate and competitive advantage of 100% foreign ownership, 100% repatriation of capital and profits and 100% free transfer of funds.
Business advantages in SAIF-ZONE:
The benefits of operating from SAIF Zone are tremendous. It allows 100% foreign ownership exemption for personal and corporate income tax with 25-year contract remedies for final rent. Licenses are issued on the same day and the 'one window operatio.
Business facilities in SAIF-ZONE:
Offices.
Industrial Park.
Land on Lease.
Prebuilt Warehouse.
Temporary Warehouse.
SAIF Zone Labor Accommodation.
Licenses available in SAIF-ZONE:
Trade License.
Commercial License:
Import, Export, Distribution, consolidation, storage or warehousing of items specific in the license, Maximum limit is three similar product lines.
General Trading:
General Trading license can be obtained under a commercial license which allows a large number of products.
Service license:
Service license allows the holder to carry out service specified in the license only. All type of services are allowed unless otherwise restricted by the Federal or local authorities.
Industrial License:
Import of raw materials, manufacturing, processing, assembling, packaging and exporting the finished product.
Alya Al Marzooqi Auditing Chartered Accountants one among the leading CA Firms in Dubai,With its head office at Business Bay & a branch in SAIF Zone.Approved in all the major free zones including DMCC,SAIF,JAFZA,DWC,Maydan etc providing professional services in the field of Auditing , Accounting ,VAT Consultation , Company Formation & CFO services etc. 
For More Details Contact Us @ Tel : +971 4 876 9377, Mob: +971 52 975 0690, +971 52 475 4007